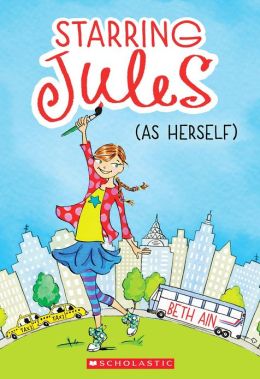 Starring Jules #1: Starring Jules (As
Herself)
, by Beth Ain, was first published March 1st, 2013.
When Jules gets an offer to be in a commercial she will turn to anybody for help. Even if it means having to talk to know it all Charlotte "Stinkytown" Pinkerton. There's a problem though, orange mouthwash. Will Jules hate of orange ruin the audition? Read the book for yourself and find out.
Beth Ain was born in Hershey, Pennsylvania, but then her family moved to Allentown, Pennsylvania where she saved frogs from getting swept away by the creek behind her house. She went to college in Boston, Massachusetts where her friends dragged her to New York City. She now lives in Port Washington, Long Island with her family. She carpools for her two kids.
Starring Jules (As Herself),
was a great book, great for kids ages 6 to 9. I would recommend this book to just about anyone. This book is the first in the Starring Jules series look out for
Starring Jules #2: Starring Jules (In Drama-Rama)
coming September 1st, 2013.