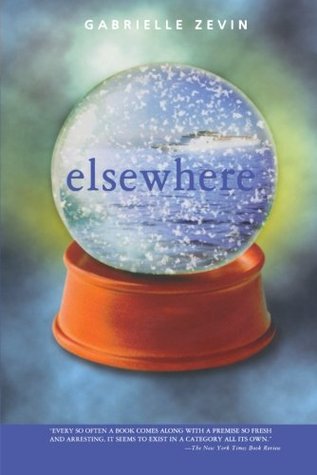 Elsewhere
by Gabrielle Zevin
Fiction, Coming of Age, Utopian, Sci-Fi
10+ for complex themes
published May 15, 2007 by Square Fish
available on Amazon, Barnes & Noble, AbeBooks

★

★

★

★

★
Summary
"Welcome to Elsewhere. It is warm, with a breeze, and the beaches are marvelous. It's quiet and peaceful. You can't get sick or any older. Curious to see new paintings by Picasso? Swing by one of Elsewhere's museums. Need to talk to someone about your problems? Stop by Marilyn Monroe's psychiatric practice.

Elsewhere is where fifteen-year-old Liz Hall ends up, after she has died. It is a place so like Earth, yet completely different. Here Liz will age backward from the day of her death until she becomes a baby again and returns to Earth. But Liz wants to turn sixteen, not fourteen again. She wants to get her driver's license. She wants to graduate from high school and go to college. And now that she's dead, Liz is being forced to live a life she doesn't want with a grandmother she has only just met. And it is not going well. How can Liz let go of the only life she has ever known and embrace a new one? Is it possible that a life lived in reverse is no different from a life lived forward?

This moving, often funny book about grief, death, and loss will stay with the reader long after the last page is turned."-Goodreads




Opinion
I loved this book! It was so original and I've never read anything like it. I feel the theme of the story is learning to adapt and love yourself. At the beginning of the book Liz finds herself depressed and struggles until finally she overcomes it. Although I completely detest classic romances, (girl meets boy, boy changes girls life, they fall in love, they live happily ever after) I think that Zevin did this expertly. The novel is a coming of age, ironic considering the main character dies right? Liz is a great role model for any young girls struggling with their life. It shows that you can overcome anything with the right people helping you.
I recommend
Elsewhere
for anyone who enjoys coming of age stories, alternate realities, or complicated love stories. Also, anyone fighting depression should really read this, it could do a lot of help. The novel could also be helpful for people suffering after a death of a loved one. It may be fiction, but it gives hope that there can be life after death, and it can be great. I couldn't wait to finish the book, but now I wish I could read it again for the first time. As someone who doesn't really care for religion I loved this book, however if you're really religious, this may not be your book seeing as it replaces heaven.
Author Bio
"Gabrielle Zevin
is the New York Times Best Selling author of eight novels. For adults:
The Storied Life of A.J. Fikry
(2014)
, The Hole We're In
(2010)
,
and
Margarettown
(2005). For young adults:
Elsewhere
(2005)
, Memoirs of a Teenage Amnesiac
(2007)
,
and the three books in the
Anya Balanchine
series,
All These Things I've Done
(2011)
, Because It Is My Blood
(2012)
,
and
In the Age of Love and Chocolate
(2013). Her books have been translated into over thirty languages.
The Storied Life of A.J. Fikry
has spent over four months on the New York Times Best Seller List, reached #1 on the National Indie Bestseller List, and has been a bestseller in multiple countries.
The Toronto Globe and Mail
called the book "a powerful novel about the power of novels."
Her debut,
Margarettown
, was a selection of the Barnes & Noble Discover Great New Writers program.
The Hole We're In
was a New York Times Editor's Choice title.
Publishers Weekly
called
The Hole We're In
"a
Corrections
for our recessionary times."
Her best known young adult novel is
Elsewhere,
an American Library Association Notable Children's Book. Of
Elsewhere
, the
New York Times Book Review
wrote, "Every so often a book comes along with a premise so fresh and arresting it seems to exist in a category all its own…
Elsewhere
, by Gabrielle Zevin, is such a book."
She is the screenwriter of
Conversations with Other Women
(Helena Bonham Carter, Aaron Eckhart) for which she received an Independent Spirit Award Nomination for Best First Screenplay. In 2009, she and director Hans Canosa adapted her novel
Memoirs of a Teenage Amnesiac
(ALA Best Books for Young Adults) into the Japanese film,
Dareka ga Watashi ni Kiss wo Shita
. She has also written for the
New York Times Book Review
and NPR's
All Things Considered
. She began her writing career at age fourteen as a music critic for the
Fort Lauderdale Sun-Sentinel
.
Zevin is a graduate of Harvard University. She lives in Los Angeles."
-Gabrielle Zevin's Website